We operate as "Northfork Station Outfitters" under a commercial river permit issued by the Prineville District BLM.
Leave No Trace practices are used on all trips.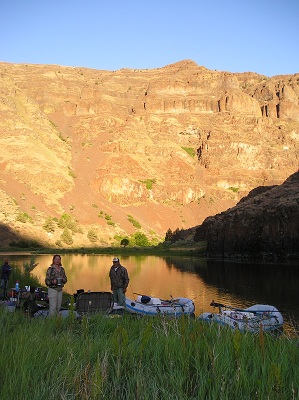 The John Day River is a tributary of the Columbia River, approximately 281 miles long, in northeastern Oregon. Undammed along its entire length, the river is the third longest free-flowing river in the conterminous United States. Its free-flowing course furnishes habitat for diverse species, including Elk, Deer, Big Horn Sheep, Upland Game Birds, Water Fowl, but most notably its spectacular Small Mouth Bass & Steelhead fishing. Through its tributaries, the river drains much of the western side of the Blue Mountains, flowing across the sparsely populated arid part of the state east of the Cascade Range in a northwest zigzag, then entering the Columbia upstream from the Columbia River Gorge. It flows through exceptionally scenic canyons in its upper course, with several significant paleontological sites along its banks.
The main branch of the John Day River rises in the Strawberry Mountains in eastern Grant County, and the four main forks each have their heads in different parts of the Malheur National Forest. The main fork flows initially north, then west through the John Day Valley and through the city of John Day. At Dayville in western Grant County it is joined from the south by the South Fork John Day River, then flows north through Picture Gorge and past the Sheep Rock Unit of the John Day Fossil Beds National Monument.
At Kimberly in northwestern Grant County, it is joined from the east by the North Fork John Day River (which had already joined with the Middle Fork John Day River above Monument, Grant County, Oregon). The river then flows west across Wheeler County.
Northfork of the John Day River - Small Mouth Bass Fishing Trips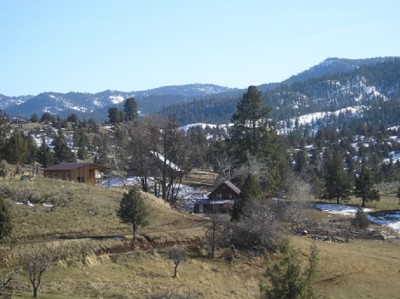 Our "Cottonwood Ranch" is located within a 15 minute drive of the Northfork of the John Day at Monument. This makes it possible to use our ranch bunkhouse and facilities as a base for floating and fishing the upper reaches of the river. We also have access to several private launches and take out points, which enable us to fish the hot spots during the months of low river flows.
The bunkhouse sleeps 6 comfortably - 2 private rooms plus a bunk bed room, bath room, shower, kitchenette and electric heat and air. Cell phones don't have coverage here but WI-FI internet access is available at the bunk house……we do have a land line phone at the ranch house. There is an endless list of activities to do here at the ranch; from trout fishing in Cottonwood Creek to shooting ground squirrels and plinking on our private range.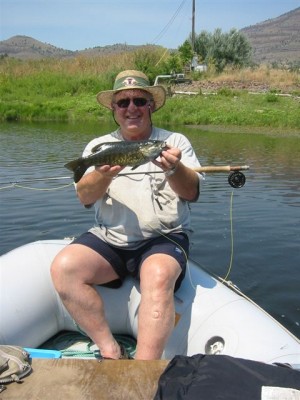 The John Day is notorious for its Small Mouth Bass fishing…………the Northfork is no exception. In fact I believe that it is better than the main fork (due to less access and fewer fishermen), 50 - 100 fish a day is the norm. A good fisherman can catch numerous fish in the 12" – 16" range with an occasional 18" – 20"+ fish landed. Most of our fishermen use plastic baits and shallow divers, but fly fishermen can really light them up when they match their offering with available feed.
We use 15' self bailing rafts as fishing platforms....they maneuver easily in low flows and provide lots of space for non-fishing companions and extra gear. Safety equipment and PFD's are in the boats at all times. There is no white water in the sections we float, but there is a couple of tricky spots that we wear the PFD's through. All children are required to wear them when they are in the boats.
A full day of fishing includes; Dinner and Lodging at our Cottonwood Ranch the evening before, 7:00 AM Breakfast, In the river fishing by 8:30, 1 guide per boat - maximum of 2 fishermen per boat, shore lunch (sandwiches, fruit, cookies, chips & juice or soft drinks), take out at 5:00 PM, arrive back at ranch by 6:30 PM, Dinner at 8:00 PM, Lodging that night is also included; the next morning a continental breakfast will put you on the road.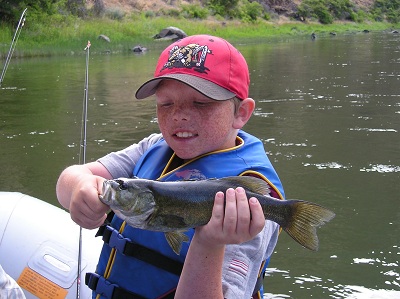 Dates - Late May - August
Price - $250.00 per person per day
(2 person minimum)
We will provide ultra light spin cast fishing equipment and lures/baits........if you plan on fly fishing you will need to bring your own equipment. If you have a favorite rod/reel and lures, your welcome to use your own.
You will need an Oregon fishing license for any fishing trip.
"This website is under construction………….steelhead, cast & blast trips are still to come."