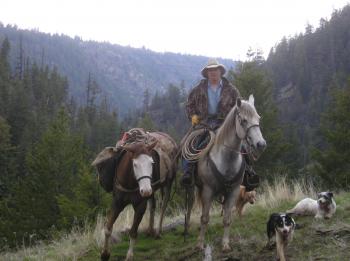 Hunter's Rendezvous Outfitter and Guides was established in 1982 and is owned and operated by John and Deborah Cole. We are full time outfitters that are also ranch people. I was raised here in Grant County and Deborah migrated to here from the Yellowstone Valley of Montana. We have 3 grown children; daughters Sara & Kayla and son Cody; all three still make Grant County their home. Cody is also a licensed Outfitter and he operates most of our public land Deer and Elk hunts.
We founded our outfitting business on providing "Quality Hunts" that produce high success rates and clients that become life long friends. By the year 2000 we had taken over one thousand successful Deer and Elk hunters. Our business each year consists of about 75% prior clients. We pride ourselves in providing our services in an honest, friendly down to earth atmosphere that will make you feel right at home and amongst friends.
Our recipe for providing a Quality Hunt includes the following;
Quality Camp – On all of our fully outfitted hunts; lodging and meals are provided. Deborah and her crew does all of the cooking. We use a variety of camps depending on what and when you are hunting. These include the main Cottonwood ranch house with bunk houses, mountain cabins and wall tent camps. In any of these camps you will have a warm and comfortable bed and all the delicious and nutritious home cooked meals you can eat.
Quality Area - We are located in Grant County, Eastern Oregon. About 120 miles southwest of Pendleton, 50 miles northwest of John Day and 120 miles east of Bend. We hunt approx. 100,000 acres of exclusive private leases and hold special use permits for National Forest and BLM lands. I have hunted most of these private leases for close to 20 years. I have always managed them for quality not quantity. They hold a very large resident population of Rocky Mt. Elk and a moderate and growing Mule Deer population. The bull to cow and buck to doe ratios exceed 35 per 100, with the average age being six years old.
Quality Animals – Our areas consistently produces some of the largest game animals taken in the state each year. Taking 300+ B&C bulls, 170+ B&C bucks and 170+ B&C bighorn sheep is a common occurrence on our hunts.
Quality Guides – This elite group, of hard working, dedicated men, know the country and how to hunt it. They have a minimum of 10 years average experience guiding for us. They are the key reason that we consistently average over 90% success on rifle and 75% on archery deer and elk hunts, all other hunts are normally 100% successful.
We are Outfitter Members of the Rocky Mountain Elk Foundation, life members of the NRA, and life members of the North American Hunting Club. We are also members of several other worthy conservation associations and donate trips each year to fund their cause.